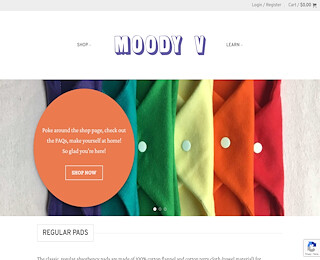 So, you're lookin' to buy cloth menstrual pads! I assume you're surfing the web looking for someone to convince you that you should most definitely for sure certainly do it? Well, bud, you came to the right place. I am a self ordained cloth pad expert and advocate! By the way, my name is Kay, and I make cloth pads for my cloth pad company, Moody V. I'm also a long-time cloth pad user and enthusiast! I've been wearing cloth pads exclusively for menstrual fluid absorption for four whole years. And!! I get lots of feedback from all kinds of menstruating humans about their experiences with cloth menstrual pads, so I'll include their experiences here! Long story short, if anyone can convince you to buy reusable cloth pads, it's me, my man.
First of all, cloth pads are so much more comfortable than any menstrual product I've ever used before. The breathable cotton fabric that I use for Moody V is super absorbent and moisture-wicking. That means they don't omit odors like those darn plast-icky disposable pads. They're not all sweaty and hot, because cotton can actually breathe! Plus, there aren't any chemicals or fragrances that cause irritation. Just make sure you wash your pads with a detergent that you know isn't too harsh for your body, and definitely don't use fabric softener (it makes fabrics less absorbent).
Now think about all the money you could save if you got yourself a good set of cloth pads. You're just reusing the same gorgeous pads for as long as you want! I've been using the same pads for 4 whole years. I have spent zero whole dollars on menstrual products in not one, not two, not three, but FOUR years. Isn't that incredibly dope? I think it is.
Ok last but not least, think of all the disposable menstrual products you're keeping out of landfills. Disposable pads are not biodegradable, and that just makes me so sad. There's so much plastic already piling up on our planet!! It for real feels really good to not produce so much waste from my period.
I hope I convinced you to buy cloth menstrual pads. Did I do it? Did I?
I did? Yay! Yas! Yaaas Kweeeeeen or Kiiiiing or NB Icoooooooon! Weeeerrrrrk!